Lots of people out there are asking "how to build a budget mining rig" with your best bang for buck in mind!
This particular rig gets me about 1800 kh/s on average.
Now because I live in Australia the prices vary from the USA
I paid $1100 AUD total for this rig
If you are in the USA you should only have to pay about $850 USD

Now I am not going to give you step by step instructions on how to put everything together. It's pretty straight forward if you have built a computer before.
IF YOU DON'T KNOW HOW TO BUILD A COMPUTER STOP READING NOW & NEVER THINK ABOUT MINING CRYPTO CURRENCY AGAIN.
This guide is not NOOB friendly.
Here is a list of parts you will want to get.
Rig:
1 x AMD A4-4000 Dual-Core 3.0GHz APU
1 x Kingston SV300S37A/ 60G SSD
1 x Gigabyte GA-F2A88X-D3H
1 x Kingston 4GB 1600MHz DDR3
1 x COUGAR 850W CMX850 80+ BRONZE POWER SUPPLY
3 x MSI R9270-GAMING-2G
3 x PCI-E 1X-16X Riser Extender Cable Powered Molex Connector
Chassis:
1x length of small PVC pipe/ conduit etc
8x 90 degrees fittings
4x T-piece fittings
1x half sheet of ply
Get a big bag of zip-ties as well. you can never have enough.
I also had an old case lying around so I took the power switch & cable for it out of it for the chassis.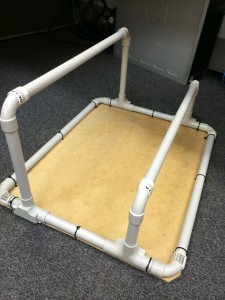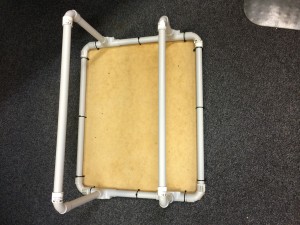 put everything together & remember if you're not sure… always zip-tie.
Finishing Product should look like something like this: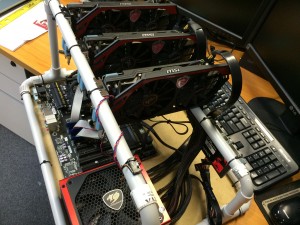 boot it up & use a flash drive or a external optical drive to install your OS of choice.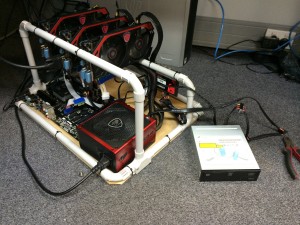 & thats it you're ready to start mining the cryptocurrency of your choice. Bit Coin, Lite Coin, Doge Coin, ETC
If you have any questions etc just comment below & I will get back to you 🙂